Equine Jogging Shoe Reviews

Below are some equine jogging shoe reviews from our customers:

Very good grip in the snow...the Ultra have the best grip we ever had with hoofshoes and because of the flexible sole the snow can't build up underneath.

Manu Volk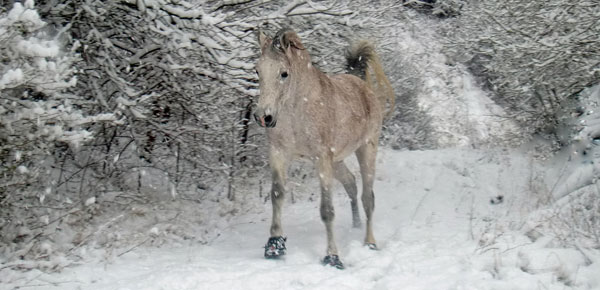 Equine Jogging Shoe Reviews: Deep mud - no problem!

I can't thank you enough for your wonderful customer service.  I truly appreciate your quick shipping and the pads that you threw in.  I do have a herd of OTTB/TB's with soft feet, product of all the mud of NYS.  I am wondering how to become a dealer as I am truly impressed with these jogging shoes.  I have to say I had two Renegade's in the front and the Performance shoes behind on my TB.  My sister's OTTB had all Renegade's on. This is what made me a true believer:  We galloped through a deep mud patch.  The Renegades went flying everywhere and the Performance shoes stayed right on.  We also put the Performance shoes on our crippled foundered mare.  The mare is now galloping.  She is so much more comfortable because of these shoes.
I want to thank you again for everything you have done.
Sincerely,
MaryAnne

Equine Jogging Shoe Reviews: Thank you, thank you, thank you!
Jenny!
THANK YOU THANK YOU THANK YOU!!!!!!!!!
The video was wonderful, and I truly appreciate the time and effort you put into answering my questions.  Once I got on YouTube, I found several more videos of the Fusion, and now yours is included there, too!  VERY helpful!
I really look forward to my ride tomorrow. Though there never is a bad day riding, some are better knowing that my horse will be comfortable and I will have an EASY time putting on those boots!
I have a friend who will be VERY interested in these, too; she's been searching for a long time for a solution for her horse. I'm betting Fusions are the answer.
Thank you AGAIN!!
Ginny

Equine Jogging Shoe Reviews: My Horse Absolutely Loves Them!


Just received my equine jogging shoes last night and all I can say is.... WOW! I absolutely LOVE them! When I put them on my horse and took her out in the ring to ride, she was at first a little skeptical that the hard ground wasnt going to hurt when I asked her to move out, but once she realized her Equine Jogging Shoes would protect her feet, she was back to being herself.

My trainer couldn't believe the difference the shoes made, and how well they were constructed!

I will highly recommend these to every horse person I know. What a great product! Normally we would be riding indoors this time of year but we have had an unusual season so far, in that we have had no snow but the ground is frozen. Once the ground froze I couldnt ride her outside any longer, then the Equine Jogging Shoes came and I am so happy I can ride my horse outside again!

Thank you so much for all your help and for such a great product!

Christine, Massachusetts, US

I am so happy I gave this boot a try

Well I am thinking the boots are a success and sold!

I got a chance to try my friends cavallos this weekend as I was also putting the jogging boots thorough their official test run. With the cavallos Venus simply refused to move much and kept picking her feet up and couldn't settle even at a stand still... plus with her medial to lateral imbalance the boot didn't fit very well even though it was the correct size.

With the jogging boots she acted like she had nothing on and they formed to her! This is a very sensitive and opinionated horse and she didn't bat an eye at the equine fusions. She was able to walk comfortably on the concrete, go on to arena surface and play on line in the deep snow with no issue. She also gave me lovely heel first landings and showed she was quite comfortable to perform in these boots.

I like that the boot flexes and has that natural concave shape to promote her hoof function.. THIS IS THE WHOLE POINT! and why she is in a hoof rehab in the first place to get back those natural mechanics. I do like the look of the boot and that it is forgiving on the fit compared to most very hard material boots. I'd say I wouldn't put a foot bigger than hers in this boot... a bit bigger and she wouldn't fit, but after looking and looking it really seemed she fit in them pretty perfect.

The boot closes up nice and had no rubbing or anything after 2 hours of some riding and ground work this weekend.

I play in fields, do arena demos or am in a paddock on varying arena surfaces and get onto some concrete getting place to place. I also do some jumping and loads of natural horsemanship and natural dressage so I think for our needs these boots fit the bill on the performance! Again the flexibility in the boot is really great for the high level maneuvers that she is capable of.

Thanks for your patience and offering this product and on the trial basis. I would not have been confident enough to purchase the boots outright due to their price tag, the trial was perfect!

Nikole, Omaha, US

Equine Jogging Shoe Reviews:
My Horses LOOOOVVVEEE these boots!

I LOVE these boots and more importantly my horses LOOOOVVVEEE these boots!
Tina, New Zealand

Easy to apply and secure

Overall, I really like the Fusions. So far they have been relatively easy to apply and remove and my horse moves comfortably and securely in them on all types of footing.
Jessica, Ohio, US

Equine Jogging Shoe Reviews:
I am very pleased with the jogging shoes

I put them on my foundered mare everyday for turnout as her sole is very flat. They are easy to take off and put on, no rubbing and lightweight. They wash up very nicely in the washing machine. They have helped my mare be so much more comfortable. I recommend to anyone in the market for a pair of boots for their horse. Both my farrier and vet think they are great. Thanks

Roberta, Ontario, Canada

Equine Jogging Shoe Reviews: I love the joggers!

I recently put my mare in Epona shoes because she just wasn't transitioning well to barefoot after a year and a half. I don't nail the shoes on, I glue them and sometimes the glue fails. It is quick and easy to stick the shoe in the jogger and she is off and running! I have used them a lot! In fact, I think I will be ordering some more soon. They are versatile, tough and easy to use. They clean up well, dry quickly when they get wet and I have never, ever had one come off!

Rhonda, Indiana, US

Great for jumping
I'm very happy with the jogging shoes I purchased. I use them for jumping and indoor work. They are lightweight and they stay on, so they are great for jumping.

Elly, Montana, US

Equine Jogging Shoe Reviews: Fabulous, love them!
I have a horse that is quite sore footed due to navicular, thin soles, and stretched white line area. The boots have been fabulous. I use a pad inside to cushion his feet a bit more and he is able to walk out and about for around an hour and one half. I have tried Boas and custom Horse Sneakers but both these boots are clumsy, rub or bruise his foot. The jogging shoe is easy to put on, light weight, doesn't twist or rub. Love them.

Robin, Arizona, US

Equine Jogging Shoe Reviews: Stoney river bed
We use our Jogging boots mainly for riding in a stoney river bed, in and out of the water! Appie was pleasantly surprised the first time he wore them and the stones didnt hurt his feet! Could even have fun trotting! He seems to love them!

Julia, New Zealand

I love my EFs

I have 2 pairs now one for each horse. I used them on my mare for 1 year of hoof rehab. The great thing about the boot is that it is so light-weight and breathable so I can leave it on 24/7. Because it is so flexible I can add all types of pads and that feature really does make a huge difference to me. The boots still fit perfectly, even if I add a 1 cm thick pad. So far the only small damage to the shoes my mare has done herself, by biting a small hole on the top. This could easily be fixed and did not affect the shoe. I am a big fan of the EFs and I recommend them to anyone...

Tina, NW Indiana, US

Return from Equine Jogging Shoe Reviews to the Equine Jogging Shoe page
Did this page help you?
Please consider making a donation to help me keep this site going -
donations over $10 get a free ANHC ebook ($17.99 value)