Tiny but Tough!
by Elaine Polny
(Palgrave, Ontario, Canada)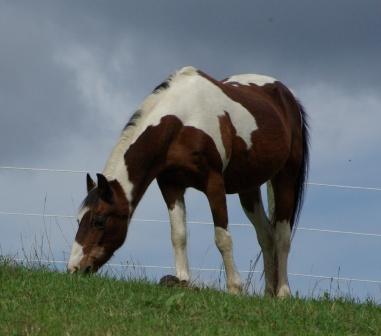 Oh, I love my grass!
This is Candy pushing 32 years old. She may be tiny but she sure is tough!

She came to us as a boarded horse 8 years ago and when the owner decided she didn't want the financial responsibility anymore she was going to take her to the slaughter house. Only problem was, we had grown too fond of her and she was still in very good health! Needless to say she is still with us to this day.

She would constantly make us laugh with her antics of "I bet I can get through that gate before you close it!" and "if I don't want to leave this lovely grassy area, who's gonna make me!" Very clever at out maneuvering many students here! I can't tell you how many times I would hear the words, "Oh no, Candy just got through the gate again!"

There was this particular moment when a very seasoned horse gal was staying over and I thought this task would be simple. I just said, go and get Candy from off the field and bring her in. A few moments later I witnessed Candy (who is not hard to catch) play the cutting horse game! Problem was she was out cutting the gal, not the other way around! I couldn't not but laugh out loud while realizing I hadn't warned her how Candy's years of experience and wisdom can bring even pro's to their knees (and a wee bit of embarrassment!)

We can all learn from the tiny & tough, the old and wise for they have so much to show us because this kind of humbling experience stays with you for a lifetime! :0)

There is something different that happens to the relationship and understanding about horses when you will never ride them. This kind of interaction becomes more of a bond with discussions and negotiations rather than the, "I have a riding agenda to address". But as a result of beautiful horses like Candy, we can "see" differently what we should be doing with them "all" and always questioning, "Who's really the smart one!

So for now, I'm pretty sure she is smarter than me! :0)
(and I'm honored that she keeps challenging me to work on it!)

Thank you Candy for being so tiny & tough!

Elaine Polny
http://www.training-horses-naturally.com/


Join in and write your own page! It's easy to do. How? Simply click here to return to Your horse pictures.
Did this page help you?
Please consider making a donation to help me keep this site going -
donations over $10 get a free ANHC ebook ($17.99 value)