Pip - Chronic Laminitis
by Jenny
(Ontario)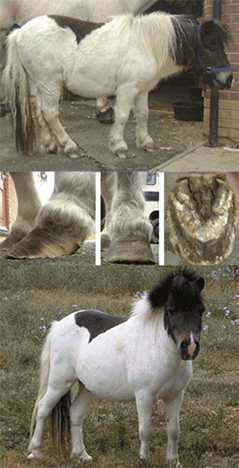 Pip is a Shetland Pony who I rescued in 2001 and when he arrived he was in very poor shape. His hooves had not been trimmed for a very long time and he had chronic (long-term) laminitis. He was around 10 years old and had had laminitis for many years. Because of the long-term nature of his laminitis, his coffin bone had deteriorated and so his recovery has been somewhat limited. Having said that he is running around without a care in the world, it is just that his hooves will never be picture perfect.

I have to keep his diet under tight control and so he wears a grazing muzzle to limit his grass intake. I have found that keeping his hooves trimmed on a very regular basis helps avoid and laminitis flare-ups.

He has never had an abscess or needed to wear hoof boots as he grows a lot of hoof and has great concavity.

The top pic shows him the day he arrived and his posture and attitude reflect how uncomfortable he was and the hoof pictures speak for themselves - horribly overgrown. The bottom pic shows him in 2006 - his posture is dramatically improved. I've also included some photos of his feet as they stand in 2009. Because of the internal damage he will never have a truely tight laminar connection (the connection between the coffin bone and the hoof wall) and I have to constantly apply a toe rocker to keep his breakover in the correct position, but he is happy and healthy and maintains a good quality of life.