Near Penrith, Cumbria, UK
by Catherine
(North west England)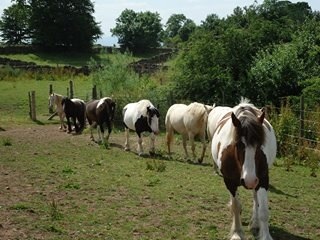 Heading out from the yard where they have been for a drink
I hasten to say that my track is still being developed and I need to add much more texture to help condition their feet and combat the slippyness when it is wet but I have really seen how well it can work during this dry summer, the first for several years.

The ground has been really hard and the horses have created dust baths and a mud wallow and watching the fourteen strong herd socialising has been a treat....I now feel guilty considering pulling them off for winter as I can see they enjoy the lifestyle so we are trying to get more dry areas done and may leave half a dozen on as a trial...my main reason for being unwilling to leave the entire herd there is lack of shelter but in a few years, when the trees and hedges mature that should not be an issue... There is a field shelter but I am not certain fourteen would share it...though they do seem very willing to be in close contact.

I am lucky enough to have a couple of pieces of ground with great shelter, hard land, natural water and slopes which are a nice winter alternative...but must say if I can get the tracks hard enough underfoot and with shelter for a larger group....those fields may be surplus to needs ....... certainly they are very fit and well, so i will persevere and make it better.

I have included a map of the layout, the entire field is nearly six acres and is undulating with a natural watering area as well as a trough.

Verdict so far...Fantastic lifestyle for my horses and so much less work...oh also all are barefoot and I trim them myself....the hard land this year has certainly meant less rasping.