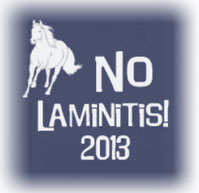 Testimonials
Finally a source for good information on identifying and managing laminitis! 

Jenny has done an excellent job compiling the best information on laminitis. 
This is the same information that has helped me help hundreds of horses, so I know it works. 
Thank you, thank you, thank you!  
I now have an easy to understand, trustworthy source of information for my clients. 
I will ask them all to buy your book, especially the ones who are dealing with possible Cushing's or Insulin Resistant horses.

Paige Poss
www.Ironfreehoof.com
Founding member AHA
Member and Mentor of PHCP and AAPF Member

You have given us the information in a format that makes for understanding the disease, and the tools needed for the care and hopefully, prevention of laminitis.
I feel much more confident having this information.
Thank you so much Jenny, I appreciate all your hard work !
Judy Vanhorne, Horse Owner
Equine Laminitis is a well-thought-out, orderly presentation of methods used successfully by internationally-known hoof care and veterinary professionals, in the treatment and prevention of laminitis.
Jenny explains, in an easy-to-read fashion, tried and true methods of treating acute cases of laminitis, needing help right now.
She goes on to identify, and clearly explain management of chronic laminitis.
But more than that, she details sound, valuable management techniques needed to keep our horses safe from laminitic episodes in the first place.

The valuable, step-by-step advice given here is made even more understandable by the accompaniment of colourful, detailed illustrations and pictures.
Jenny's attention to detail, is in language which easily guides the reader to the best approach to address the situation at hand, be it acute laminitis, chronic laminitis, or the desire to avoid both.
Lorna Cane, Horse Owner

I just downloaded your e-book on laminitis and want to congratulate you for presenting the facts and solutions clearly enough for owners to understand.
You are doing a great service for all horses - a form of payback for all their years of service.
What I really wanted to gush about is that you've written this for owners so they can make the right choices.  I only wish I'd had this eight years ago....  heck, I had to become the help I was looking for when my horse foundered and, by the time I became that person, the damage had become irreversible.

EVERYTHING you suggest actually works = spot on!  I'm going to publicize this to my hoofmail list and ask them to keep the link to share with their friends when they hear of horses who are in trouble!  It's a MUST READ for every horse owner, and you can quote me!
Susanella, farriergodmother.com Hawaii