No Laminitis Conference 2013

All Natural Horse Care is a proud sponsor of the No Laminitis Conference which is taking place this year in Oregon between 27th-29th September.
Presented by the ECIR Group, this conference is a must for anyone interested in learning how to prevent and manage laminitis.
Featured speakers include:
Dr Eleanor Kellon, VMD - author and authority on equine nutrition and nutraceuticals and veterinary advisor to the ECIR Group Inc. Subject: Advances in Equine Cushing's disease and Insulin Resistance
Dr Robert Bowker, VMD, PhD - Professor of  Neurobiology and Anatomy with the Department of Pathobiology and Diagnostic Investigation in the College of Veterinary Medicine at Michigan State University. Subject: Physiology of the Equine Foot
For more information visit www.nolaminitis.org

Concise Book on Equine Laminitis

Following the principals of the ECIR Group, this book has been produced to help owners struggling to understand how to best help their horses.

Written in clear, simple language this book will guide you through the steps you need to take to help your horse.

With fourteen chapters presented in a logical fashion, plus full color photos and detailed high quality full color diagrams professionally presented book is a must for all horse owners.

Available for instant download as an ebook or in a full color paperback.

For more information click here.

Equine Fusion Jogging Shoes

These hoof boots have been designed to allow the hoof to function as naturally as possible. They have a unique flexible sole and are suitable for both riding and rehab.
For additional comfort there is also a Dampening Pad available.

Main features:

Flexible, concave sole
Great for both rehab and riding
Very lightweight and breathable

Machine Washable
Choice of two models - Performance and Ultra
Choice of colors
Available in five sizes, from 10cm length through to 15cm length

For more information click here.
Ultra Jogging Shoe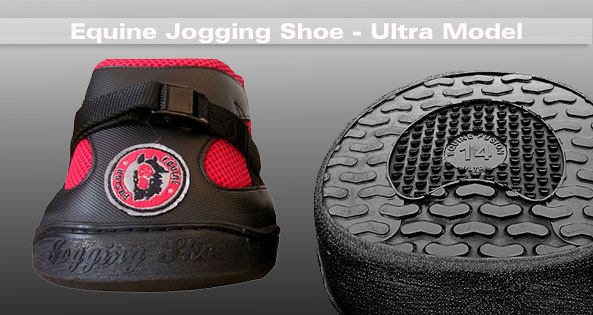 Increased stability for hoof wall
Better dampening on hard surfaces for sensitive hooves
More center flexibility for maximum frog pressure, improved balance & breakover
Less traction on asphalt to allow sliding phase of hind legs
Red/black and black/black color options
Performance Jogging Shoe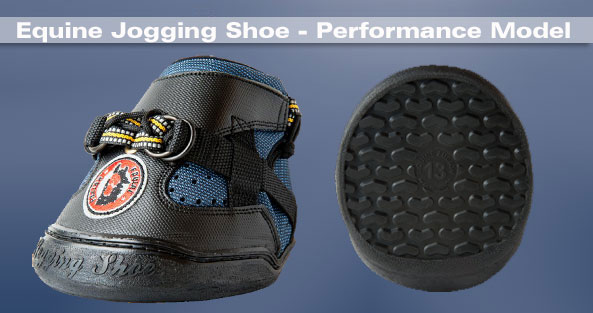 New and improved locking system
Water resistant fabrics and straps
Slim fit design - less weight and closer fit to hoof
New sole design - better grip off-road and in in tough terrain
Blue/black color option

Return from No Laminitis Conference to the Home Page page
Did this page help you?
Please consider making a donation to help me keep this site going -
donations over $10 get a free ANHC ebook ($17.99 value)