All Natural Horse Care News - March 2012
SALE on Equine Jogging Shoes
$25 off per pair - from 1st March to 1st June 2012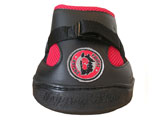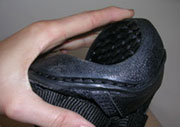 Equine Fusion have launched the first of it's kind hoof boot that has a flexible sole which allows the hoof to function more naturally.
The boot, called the Equine Jogging Shoe has many unique features:
Unique sole that is concave and flexible
Lightweight - one of the lightest boots on the market
Machine Washable
Breathable
Easy measuring system
For more information click here
---
Saddle Fit Video Series
Saddle Fitting in Nine Steps. The following links are for each of the nine steps:
Step One - Balance
Step Two - Wither Clearance
Step Three - Gullet Channel Width
Step Four - Full Panel Contact
Step Five - Billet
Step Six - Saddle Length
Step Seven - Saddle Straightness
Step Eight - Saddle Tree Angle
Step Nine - Saddle Tree Width


---
Hoof Trimming Clinic
14th April 2012
Elgin, Ontario
$140 per person

The hoof trimming clinic offers you the chance to learn about hooves and barefoot hoofcare including how to perform a maintenance trim on your own horse.

For more information and to book your place click here


---
Laminitis Case Study
Documenting Mary, our latest rescue, who had chronic laminitis, rotation and sinking. Click here to view


---

Show Your Appreciation For ANHC - if the information on the ANHC site has helped you and your horse please consider making a donation to keep the site going.

---