All Natural Horse Care News - Nov 2011
The World's First Flexible Hoof Boot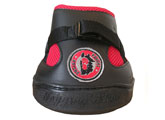 Equine Fusion have launched the first of it's kind hoof boot that has a flexible sole which allows the hoof to function more naturally.
The boot, called the Equine Jogging Shoe has many unique features:
Unique sole that is concave and flexible
Lightweight - one of the lightest boots on the market
Machine Washable
Breathable
Easy measuring system
For more information click here
---
Australian Brumby Hoof Study
Improving the Foot Health of the Domestic Horse: The relevance of the feral horse foot model
New report by Brian Hampson and Chris Pollitt on Australia's wild horse hoof morphology and health. Interesting report that highlights some though-provoking observations but is very biased against the natural horse as a model for hoof care.
A free pdf download can be accessed by clicking here
---
Free Online Trimming Course
Equine Soundness is offering the online theory of their student course free of charge to anyone interested.

We hope this will help horse owners, veterinarians, farriers and barefoot trimmers alike.

For information how to sign up: click here

---
Movement
Dr Bowker conducted a study to compare the movement of the pastured horse compared to the stalled horse.

On average the pastured horses took 8,000-10,000 steps per day.

The stalled horses averaged 800!

Whilst conducting the study he noticed that pastured horses tended to sleep mostly in the early hours of the morning. So he wondered if it would make much difference if the horses were just stalled at night, as this would include the sleep hours.

Interestingly the horses that were stalled at night didn't move much more than the 24/7 stalled horses when they were turned out during the day. He theorized that the act of stalling shuts down the horse's innate movement characteristic.


---
Win a Coloring E-book Submit one of your colored-in pictures from our site for your chance to win a 30 page Horse Coloring E-book.

---

Photo Consultations - need some advice or a second opinion on the condition of your horse's hooves? Find out how ANHC can help.

Show Your Appreciation For ANHC - if the information on the ANHC site has helped you and your horse please consider making a donation to keep the site going.
---